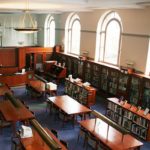 Website Friends Of The Sacramento Public Library
We are looking for volunteers to sort, shelve and arrange books in our warehouse and bookstore as well as act as cashier or tally books during our warehouse sales. We work in the warehouse on Wednesdays and Saturdays from 9-12 noon. and Tuesdays and Thursdays from 2-6 pm. We have periodic needs for new cashiers in our book store, which is open Thurs-Sat from 9-2 pm. We have opportunities for the able-bodied and not-so-able-bodied.
Our greatest need is for people who can commit to work at least twice a month or more and are not solely trying to satisfy a short term volunteer hour requirement. However, we do maintain a pool of people to call upon occasionally for one-time big jobs.
You must be at least 16 years old.