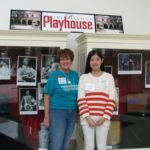 Website Friends of The Pasadena Playhouse Theater
The Friends of The Pasadena Playhouse Volunteers usher, conduct Playhouse tours, archive the history of The Playhouse, provide cast and crew meals, furnish office help, sell Playhouse themed merchandise, work on special projects and fundraise.
A great opportunity from 16 and up. Opportunites for those who are working or retired. Find your passion.
Students can volunteer with the Friends of The Pasadena Playhouse to earn their community service hours or supplemental required course work. Let us know if you are a student.
Visit our website to find out more. http://friendsofthepasadenaplayhouse.org/About_1.php
Please contact us for more information.