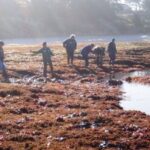 Website Fitzgerald Marine Reserve
Our volunteer naturalists lead tours of the intertidal environment, help with events, and interact with members of the public to bring the wonders of the reserve to life and foster a sense of stewardship.
On weekdays, volunteers lead tours for school groups. On weekends and holidays, volunteers lead tours or roam the reef to interact with drop-in visitors.
The need for volunteers at Fitzgerald Marine Reserve is great and we work hard to provide excellent education for our volunteers. To become an FFMR Volunteer Naturalist, you are required to complete and pass our annual Volunteer Naturalist Training Classes. In addition, as a Volunteer Naturalist, you will be required to volunteer a minimum of 6 hours per month during your first year of service. If you are unable to make this commitment to FFMR, then this may not be the volunteer opportunity you are looking for.
There are many opportunities to volunteer at Fitzgerald Marine Reserve including:
•  answering questions and assisting visitors at the Visitors Center;
•  helping protect the harbor seal population;
•  leading tours for school groups or other groups with reservations;
•  weekend help is especially needed for roving and protecting the intertidal area;
•  plus other opportunities you will learn about during your training.
If you are unable to fulfill the minimum requirements for volunteering, you will be placed on inactive status and not permitted to participate in any continuing education or social events sponsored by FFMR throughout the year.
As a tidepool Volunteer Naturalist at Fitzgerald Marine Reserve you will be walking on slippery and uneven surfaces for up to two hours at a time. Volunteer Naturalists must be physically capable to navigate the rocks and reef, and be over 17 years old.