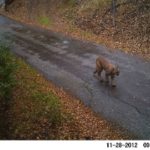 Website Felidae Conservation Fund
Felidae is seeking volunteers to assist with entering remote trail camera data remotely from your own computer.
We request that those interested be available at least once per week for 4 hours. Data entry involves using a specialized, but simple, Database program to enter data for images and videos collected from remote cameras deployed throughout the greater Bay Area.
Data entered will be utilized in multiple scientific analyses for wildlife in the Bay Area and in presentations and reports available to the public. Great opportunity for adults and students seeking volunteer opportunities. Remote training required.
You must be at least 16 years old to volunteer.