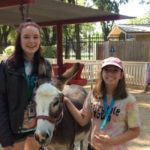 Website Fairytale Town
Fairytale Town is looking for mature, dedicated, hard-working volunteers, both young and old, that would like to give back to their community. Potential volunteers should have a clear goal in mind, and strive to achieve that goal whenever they give service. We strive to develop strong relationships with our volunteers, to keep them coming back year after year to renew their commitment to the community and to Fairytale Town.
To get started:
Download and read the Information Packet
Visit our volunteer management system: Better Impact
Create a profile, fill out application and submit online (we do not offer paper applications anymore)
Write down your user name and password
Volunteers must be at least 13 years old.
Minors (under age 18) will also need a Minor Volunteer Permission Form submitted in order to complete their profile.
If you are interested in the Volun-teen or Summer Camp Teaching Assistant programs, please specify your interest on your profile and contact us to schedule an interview.
New volunteers must attend an orientation, after you've completed your profile you can begin to sign up for volunteer opportunities.