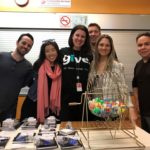 Website Episcopal Community Services of San Francisco
Food security is always a prevalent concern for people living in Episcopal Community Services' supportive housing sites, but during COVID-19, the need to stay inside and make the most of the food you have is elevated. Throughout our residential buildings, seniors and people with compromised immune systems constitute more than half of the residents. Helping them find ways to stay inside and cook at home is critical.
Help people make the most of little means by putting together 10-15 page recipe books that use simple pantry staples. Recipes should not require a lot of, or expensive ingredients and since many of our residents don't have access to a full kitchen, meals that can be made with a crockpot are preferred.
Requirements:
Access to a computer and internet
Respect of deadlines and commitments
Contacts us if interested in volunteering!