Anywhere
December 31, 2020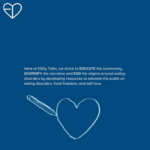 edifytalks EDify Talks
We are a 501(c)(3) organization that strives to EDUCATE the community, DIVERSIFY the narrative, and END the stigma around eating disorders.
We are looking for website design and developers, writers, video design, creative design, animation, magazine design, eating disorder changemakers, TikTok/IG Reel, and public relations! Applications are accepted on a running basis.
Volunteer hours can be given.
Contact us at info@edifytalks.org if you have any questions or concerns.
For details about this opportunity, visit bit.ly.