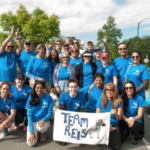 Website Cystic Fibrosis Foundation - Northern California Chapter
Real progress toward a cure has been made, but the lives of young people with cystic fibrosis (CF) are still cut far too short. We urgently need the public's continued support to fulfill our mission and help add tomorrows for those with the disease.
The Cystic Fibrosis Foundation has raised and invested hundreds of millions of dollars to help develop CF drugs and therapies. Through our efforts, the life expectancy of a child with CF has doubled in the last 30 years, and research to find a cure is more promising than ever before.
Year after year, volunteers make every GREAT STRIDES walk site both fun and successful. Their dedication has helped GREAT STRIDES become one of the most effective and efficient fundraising efforts.