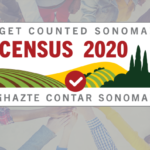 Website County of Sonoma Human Resources
The County of Sonoma – County Administrator's Office is seeking volunteers to help in the Census 2020 outreach campaign to raise awareness about the importance of getting counted in the decennial Census. Every ten years, our constitution mandates that all persons be counted in all the states and territories, which leads to determining government representation and federal funds received. The County's Census 2020 outreach campaign effort will specifically target communities that are least motivated to participate in the Census. These volunteers will serve as messengers at participating libraries, schools, and community based organizations throughout the county. Their role is to encourage residents to be counted, provide information about different options of getting counted, and answer questions about the Census. Bilingual (Spanish/English) speakers highly desired.
Duties and responsibilities:
Five (5) hours per week at designated locations.
Distribute flyers and Census 2020 pledges and invite the public to be counted.
Learn about the Census to provide answers.
Find businesses or locations interested in displaying Census 2020 flyers and posters.
Keep records of the number of people reached at each location and number of businesses or locations willing to display Census 2020 material.
Volunteers in this position will receive an orientation and specific instructions on interacting with the public.
Requirements:
Ability to communicate with public and business personnel in professional manner.
Ability to complete a one-hour orientation.
Must be at least 15 years of age.
Bilingual (Spanish/English) speakers are highly desired.