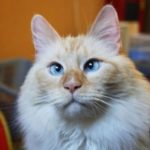 Website Community Animal Network
Play With Kitties and Help Clean Up!
PET, PLAY, LOVE!
Brush, play and clean-up.
Rescue kitties love playtime!
The caregiver loves the help cleaning-up!
(Kennel Duties – schedule M-F afternoons or evenings)
1) litter boxes scooped.
2) litter boxes scrubbed and disinfected.
3) Restock litter and cat food
4) Wash plastic carpet protectors
5) Play with kitties with the wand toy.
6) Brush kitties with the best brush called the "Furminator"
You must be at least 15 years old.