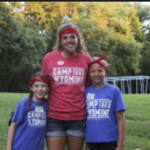 City of Santa Clara
Looking for volunteer opportunities this Summer 2020? Now is the time to sign up to become a volunteer!
Therapeutic Recreation Services serves the recreational and social needs of individuals who have disabilities in Santa Clara County. We offer programs such as aquatics, dance, fitness, and social clubs. Volunteers are essential to providing quality services to the residents of our community. We need YOUR help in making our programs a SUCCESS! We have a variety of volunteer opportunities available for those ages 14 and above, including students who need service hours. We currently have opportunities in the evenings and on Saturday mornings/afternoons. Starting in July, there will be opportunities during the day for our Summer Camp. We full and half shifts for our camp. Apply today.
Background Check
Must be at least 14
Orientation or Training
Fingerprinting and background check for those 18 years and older. Fingerprinting is free of cost.