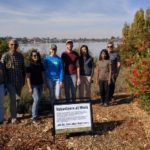 Website California Native Plant Society - Santa Clara Valley Chapter
Create a wildlife habitat, help the environment, and beautify the park all at the same time. The Lake Cunningham Native Garden is a volunteer-maintained area at the south shore of Lake Cunningham in San Jose. We perform tasks like weeding, mulching, planting, and watering. In 2017-18, we planted 61 native trees along Inner Lake Path. In 2019, we will plant 30 more native trees.
Workdays are Saturdays 9am to noon. The setting is outdoors with a view of the lake, the garden, and wildlife. To volunteer, RSVP through the Meetup link below. Look for listings for Lake Cunningham workdays.
Directions: http://lakecunninghamnativegarden.org/directions
Waiver forms: http://lakecunninghamnativegarden.org/forms
Must be at least 14