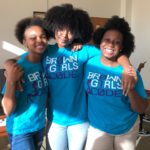 Website BrownGirlsCode Brown Girls Code
We are looking for subject matter experts who want to give back to their communities. Our Volunteer Instructors will have an opportunity to make an impact in the lives of girls across the nation.
You will teach and facilitate activities in the area of your choice. You should only sign up to teach or facilitate courses/areas where you have experience. Courses will be conducted through Zoom.
Our clubs are typically 2 hours in length with a 5-10 minute break each hour. You will have your own Zoom breakout room with 10 – 20 students.
Backgrounds checks are required. https://opportunities.averity.com/Application.aspx?oid=61493
REQUIREMENTS:
Background Check
Must be at least 18
Orientation or Training
Varies: Virtual Summer Camps: Daily (M-F) 2 hr or 4 hr blocks | Virtual After-school programs: Weekday Evenings; twice each month 2 hrs each | General: Weekly (2 hrs once a week); OR create your own schedule [virtual]..
passionate about teaching and technology; comfortable using online platform for teaching (Zoom)