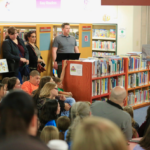 Website Benicia Public Library
The Teen Volunteer Program is one of the Library's biggest and most popular ongoing programs. It is made up of local teens, ages 13-19, who are interested in giving back to the community by volunteering for a two-hour shift . We have three regular weekly shifts during the school year:
MONDAYS: 4:00-6:00 p.m.
TUESDAYS: 3:30-4:30 p.m.
WEDNESDAYS: 4:00-6:00 p.m.
Throughout the year, we have at least 30 active Teen Volunteers at any given time. If you are interested in volunteering but cannot work one of the scheduled shifts, the Teen Services Librarian will work with you to schedule other times for you to work on your own. These volunteers can choose from specific Thursdays, Fridays and Saturdays. The Teen Services Librarian will email her schedule at least a month in advance and the teens can pick and choose what works in their own schedules.