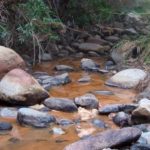 Website Arroyo Seco Foundation
The Arroyo Seco Foundation (ASF) needs a volunteer graphic artist for occasional tasks and assignments to design interpretative signs, promotional material and basic informational material about our mission of environmental sustainability and restoration.
ASF is an environmental conservation organization in Pasadena and Northeast Los Angeles so there is abundant material and images that can be used to depict nature and its glory. We focus on the Arroyo Seco watershed, a key tributary of the Los Angeles River. We also operate Hahamongna Native Plant Nursery, at the foot of the San Gabriel Mountains in Pasadena, which offers lots of spectacular images of native plants and natural settings.
We are looking for an eager and/or experienced graphic design artist who is creative and sensitive to nature and the environment.
If you are interested, please send an email to tim@arroyoseco.org and include some samples of your work.
REQUIREMENTS:
Orientation or Training
Occasional task and assignments could amount to 8-10 hours a month.
Artistic still and ability to created clear, motivational messages.