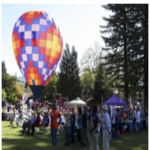 Website Alzheimer's Association, Northern CA and Northern NV
Over 5 million Americans suffer from Alzheimer's disease. The Alzheimer's Association is looking for passionate volunteers to serve on the planning committee of the 2020 Napa Walk to End Alzheimer's.
Committee member responsibilities include:
Engaging with local businesses to support the event
Coaching past participants
Recruiting new teams
Marketing the event through local communication channels
Recognizing VIP donors and fundraisers
Overseeing event logistics and coordinating day-of event volunteers
The committee meets monthly from January through November, and we are actively seeking new members for 2020.
Come see what it's all about!