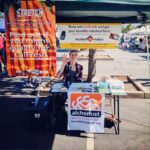 Website Alchemist Community Development Corporation
Alchemist CDC operates CalFresh processing at multiple farmers' markets. The CalFresh program offers qualifying lower income individuals financial assistance in purchasing food for themselves and their families. Farmers' markets are a great asset to communities, and can lead to improved health for area residents. By making it easier for lower-income populations to purchase food at farmers' markets, these community assets will become more equitable and accessible to all individuals. If you like meeting new people and hanging out at the farmers' market, this is a great opportunity to do that, while making farmers' markets a more equitable resource for low-income populations.
We need your help to staff our CalFresh processing booths. You must attend a hands-on training and commit to volunteering at least four times over a four-month period. Volunteer shifts range from 2.5 to 5 hours (your choice), and finish around midday. Punctuality and reliability are very important! This is a great opportunity for "morning people," as most markets open at 8AM!
Volunteers under the age of 18 are welcome, but must bring a parent or guardian to orientation and have parent or guardian's written permission to volunteer.
Year-round Markets:
Florin Farmers' MarketThursdays 8AM – 12PM
Florin Sears parking lot, Florin Rd. and 65th St., South Sacramento
Midtown Farmers' MarketSaturdays 8AM – 1PM
20th St. between J St. & L St., Midtown Sacramento
Laguna Farmers' MarketSaturdays 8AM – 12PM
Laguna Gateway Shopping Center at Laguna Blvd. & Big Horn Blvd., Elk Grove
Sunrise Farmers' MarketSaturdays 8AM – 12PM
Sunrise Light Rail Station parking lot at Sunrise Blvd. and Folsom Blvd., Rancho Cordova
Country Club Plaza Farmers' MarketSaturdays 8AM – 12PM
Country Club Plaza Mall (Butano Dr. Parking Lot), Watt Ave. & El Camino Ave., Arden-Arcade
Central Farmers' MarketSundays 8AM – 12PM
Downtown State Parking Lot at 8th & W Streets, Sacramento