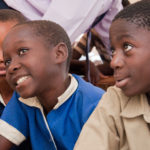 Website Africa Matters
Conservation through art, education and science.
Volunteer to support a fun event for a non-profit working in Zimbabwe. We are bay area locals, passionate about conservation using arts, education and science ensure protection of wildlife and their environment. Thanks for your contribution! See our event description below.
Have fun chatting, play a game or two, enjoy art, wine and appetizers, and relax to a very special live performance.
Discover just how significant our impact has been over the last 16 years. We will be highlighting our on-going and new projects that support on-the-ground wildlife conservation research, environmental education, schooling for rural children, community & environmental wellness programs and conservation workshops.
Leave having had a fun afternoon, perhaps with some new art work and the knowledge that your contributions are far reaching.
Because we believe even the smallest effort is far reaching, we will be accepting eye glasses and any small hotel soaps, tooth paste and travel tooth brushes at the event.
Tickets: $30 donation online now or $40 at the door.