Sort clothes and prepare food for the homeless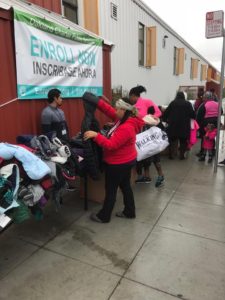 DETAILS: 
S.O.S (Serving on Saturday's) was developed to reach out to people in need of food, clothes and encouragement. Volunteers come on Saturday mornings; assist with a range of duties from food bags preparation, sorting and organizing clothing donations, preparation of a hot meal for the homeless, painting & any other areas of need. With this program we need can accommodate up to 15 volunteers each Saturday and require registration of groups. Please dress modestly, comfortably & bring a wonderful spirit of service.
We are asking that all of our volunteers bring any of the following items on their day of service to contribute to helping us meet the needs of our community. Thank you.
Disposable items: * Coffee cups * Plastic silverware * Napkins
Cleaning Supplies: * Pine Cleaner  * Bleach * Dish Soap  * Cleaning cloths * Latex gloves
Paper Products: * Paper Towels * Napkins/ Paper Plates (sturdy) * Toilet Tissue
Hygiene Products:   * Bars of Soap * Shampoo & Conditioner * Deodorant * Razors