Help out at the Pleasant Hill Library Book Sale
with Friends of Pleasant Hill Library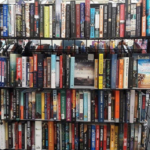 DETAILS: 
We need your help to get ready for the Friends of the Library Parking Lot Book Sale – Saturday, March 2nd, 7:00am – 4:00pm. Set up, Cashier or Breakdown shifts available. When you sign in, you will receive a VOUCHER to choose one free book at the end of your shift. Our thanks for your hard work.
If you're planning your volunteer schedule for 2019, here are our next Book Sale dates:
April 13
May 11
June 8
All proceeds go towards supporting programs of the Pleasant Hill Library.
Thank you!