Give talks to kids at the zoo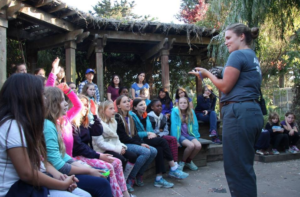 DETAILS ON TWO VOLUNTEER OPPORTUNITIES: 
Talk on the Wild Side:
Learn how to handle livestock, insects and more, while giving informational talks to Zoo visitors. Utilize biofact carts to educate the public. 
Become a zoo teacher assistant:
Interact with children in our Zoo Camp program. Help kids explore the world of animals through Zoo tours, crafts and games and assist Zoo Camp teachers with activities. Gain practical work experience with children.